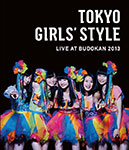 Tokyo Girls' Style Live at Budokan 2013 will be released on DVD and Blu-ray on April 16.
The concert was held on December 22 at Nippon Budokan. It was their 2nd live performance at this venue.
The setlist has 23 songs including solo performances by the members of Tokyo Girls' Style and their latest singles.