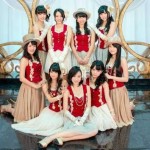 SKE48 announced the graduation of 9 members : Kuwabara Mizuki, Takada Shiori, Hiramatsu Kanako, Akaeda Ririna, Ogiso Shiori, Ueno Kasumi, Hara Minami, Kobayashi Emiri, and Yagami Kumi.
The announcement was made during the SKE48 Team KII's theater performance held on January 15.
The 9 girls formed the unit Tabidachi Sotsugyou-Gumi (旅立ち卒業組) to perform Sore wo Seishun to Yobu Hi (それを青春と呼ぶ日) which is a coupling song for SKE48's 11th single Choco no Dorei (チョコの奴隷).