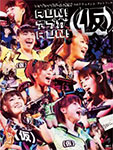 Up Up Girls will release their 1st documentary photobook Run! Upga Run! (アップアップガールズ(仮)Run! アプガ Run!(仮)1st ドキュメント・フォトブック) on May 31.
The photobook contains pictures from their live tour Up Up Girls Taiban Angya (Kari) (アップアップガールズ(仮)対バン行脚(仮)) held this spring.
It also includes interviews with the group members, the producer Michitomo, the choreographer Takenaka Natsumi…
The book has 192 pages and is in a A4 format.