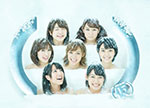 Up Up Girls (Kari) 1st Zenkoku Tour (アップアップガールズ(仮)1st全国ツアー) will be held from March 21 to June 1, 2014.
During this concert tour, entitled UpGa Daini Sho (Kari) Shingun ~Nakano ni Mukatte~ (アプガ第二章(仮) 進軍~中野に向かって~), Up Up Girls (Kari) will hold 15 live performances across Japan.
The final concert will take place at Nakano Sun Plaza in Tokyo.