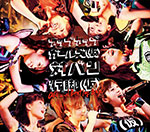 Up Up Girls Taiban Angya (Kari) ~Official Bootleg Box~ (アップアップガールズ(仮)対バン行脚(仮)) will be released on DVD in late August.
The DVD box set includes the 5 concerts held by Up Up Girls featuring other idol groups between February and April.
The other idol groups which participated in the live performances are Negicco, Dorothy Little Happy, Hime Kyun Fruit Can, LinQ, and BiS.