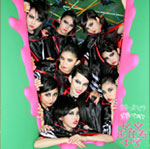 Shiritsu Ebisu Chuugaku's 4th major single Te wo Tsunagou / Kindan no Karma (手をつなごう / 禁断のカルマ) will be released on June 5.
This is a double A-side single.
3 versions are available. Each one of them contains 3 songs and their instrumental versions.
Kindan no Karma will be used as the ending theme for the drama Vampire Heaven (ヴァンパイア・ヘヴン) which will start airing on April 14 on TV Tokyo.