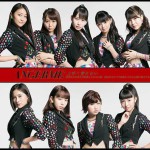 The new single of ANGERME entitiled Umaku Ienai / Ai no Tame Kyou Made Shinkashite Kita Ningen, Ai no Tame Subete Taikashita Ningen / Wasurete Ageru (上手く言えない/愛のため今日まで進化してきた人間 愛のためすべて退化した人間/忘れてあげる) will be on sale on October 19.
It contains a triple A-side.
The MV has been unveiled.
A new member will make her appearance on this single Kasahara Momona (aged 12). she was promoted as a new member last July during the Hello! Project Summer Tour. This announcement was a surprise for the fans. Kasahara Momona is a 5th generation member of the idol group.