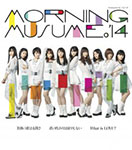 Morning Musume '14 will release their new single Egao no Kimi wa Taiyou / Kimi no Kawari wa Iyashinai / What Is Love? (笑顔の君は太陽 / 君の代わりは居やしない / What Is Love?) on January 29.
This is the 55th single from Morning Musume. 6 editions are available.
For the first time, the idol group is credited as Morning Musume '14 on this single.
The music videos have been released.