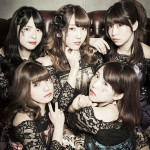 Japanese and Taiwanese idols will face off at PIPE Live Music's Taiwan Girl Idol Festival on July 4.
Japan will be represented by Starmarie and Kikkawa You, while Taiwan will be represented by Juriri Juriran Mirai Gorogoro Colony the 13th, Mi*N~Ki♡, and Tira.
Starmarie and Kikkawa You will also hold one-man live performances on July 5.
In addition, Starmarie will be the guests of Kikkawa You Live Tour in Taiwan ~ Yougen Jikko~.
Kikkawa You will perform as guest at Starmarie Solo Performance ~The Fantasy World~.
Taiwan Girl Idol Festival and these events will be held at the same PIPE Live Music venue.
Ticket and Facebook Event information below: