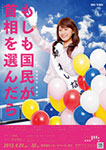 Takahashi Ai will be starring in the stage play Moshimo Kokumin ga Shushou wo Erandara (もしも国民が首相を選んだら).
Hello! Project members Wada Ayaka (S/mileage), Fukuda Kanon (S/mileage), Miyamoto Karin (Juice=Juice), Uemura Akari (Juice=Juice), and Ishikawa Rika (ex Morning Musume) will also make an appearance.
The play will run from April 24 to 30 in Space Zero, Tokyo.
Schedule
24/04/2013 : 19:00
25/04/2013 : 19:00
26/04/2013 : 19:00
27/04/2013 : 11:30 / 15:00 / 18:30
28/04/2013 : 11:30 / 15:00
29/04/2013 : 11:30 / 15:00
30/04/2013 : 15:00 / 19:00