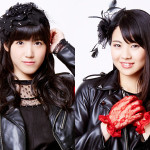 Takahashi Nanami and Kouya Honami announced their graduation from Rev. from DVL.
Both members will leave the idol group in the end of May.
Takahashi Nanami suffers from scoliosis for a few years. Despite all her efforts to fight the disease, her condition has worsened. The doctor told her to stop physical activities in order to undergo medical treatment.
Kouya Honami graduated from high school in March. She has decided to leave the unit to follow her own path.
The graduation ceremony of Takahashi Nanami and Kouya Honami will take place during Rev. from DVL's live performance scheduled on May 28 at Skala Espacio in Fukuoka.