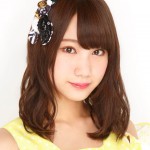 Takano Yui announced her graduation from NMB48.
Takano Yui explained that she had chosen to leave the idol group in order to reach her new goal which is to become a talent and entertainer on TV variety shows.
The date of her graduation live and ceremony hasn't been determined yet.
Takano Yui joined NMB48 as a 2nd generation member in January 2012. She is currently part of Team M.