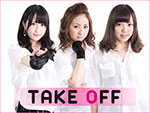 Take Off (テイクオフ) is a Japanese idol group formed in May 2011. It currently consists of 3 members.
The unit is based in Osaka in Kansai area.
The name of the group means that their aim to "take off" from Osaka to the whole country in order to become major idols.
Take Off released their 1st single in November 2012.
Nagashima Kiyuu withdrew in September 2013.
Profile
Take Off (テイクオフ)
Years active : 2012 – present
Label : Kakeru Record
Agency : Kakeru Production
Members
Suenaga Airi (末長愛理), leader
Nishimoto Jyuri (西本珠理), sub-leader
Shimatani Fuuka (嶌谷風化)
Former Members
Discography
Singles
21/11/2012 : Take Off
03/07/2013 : Run
Albums
Links
News