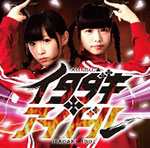 Takenoko▲'s new single Itadaki Idol (イタダキ★アイドル) will be released on January 29.
3 versions are available. The CD contains 2 songs. It includes 2 remix by DJ Amane.
Check out a video of the live version of the title song by Takenoko▲.
The lyrics were written by End Cape. The music was composed and arranged by Master 2K.
Takenoko▲ is an indie idol group consisting of Suzukawa Natsuki and Shinohara Yuri.
Tracklist
Regular Edition

Itadaki Idol (イタダキ★アイドル)
Tsuratsura Bye Bye (つらつらバイバイ)
Itadaki Idol (イタダキ★アイドル) (Remix)
Tsuratsura Bye Bye (つらつらバイバイ) (Remix)
Type A

Itadaki Idol (イタダキ★アイドル)
Tsuratsura Bye Bye (つらつらバイバイ)
Itadaki Idol (イタダキ★アイドル) (Remix)
Itadaki Idol (イタダキ★アイドル) (Instrumental)
Type B

Itadaki Idol (イタダキ★アイドル)
Tsuratsura Bye Bye (つらつらバイバイ)
Tsuratsura Bye Bye (つらつらバイバイ) (Remix)
Tsuratsura Bye Bye (つらつらバイバイ) (Instrumental)
Video (Live)