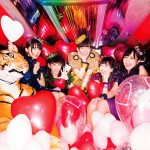 Tacoyaki Rainbow (たこやきレインボー) is a Japanese idol group formed in 2012. They are also known as Tako Niji (たこ虹).
It currently consists of 5 members. Each one has been assigned a color.
Tacoyaki Rainbow are managed by Stardust Promotion and is part of its Section 3 (3B Junior).
The idol unit is based in Kansai area.
It is a sister group of Momoiro Clover Z (ももいろクローバーZ), Shiritsu Ebisu Chuugaku (私立恵比寿中学), Team Syachihoko (チームしゃちほこ), and Batten Show Jo Tai (ばってん少女隊).
Their catchprase is "Stardust's ultimate weapon" (スターダストの最終兵器).
Biography / History
Takoyaki Rainbow were formed in September 2012.
In December 2012, the girls took part in the opening performance of a release event organized for Shiritsu Ebisu Chuugaku's single Ume (梅).
The idol unit held its 1st live event in February 2013 at Yamada Denki Labi1 Namba in Osaka.
Takoyaki Rainbow opened their official blog in May 2013.
Their 1st single Over the Takoyaki Rainbow (オーバー・ザ・たこやきレインボー) was released in September 2013. The CD was only on sale in Kansai area, i.e. in Hyogo, Osaka, Shiga, Kyoto, Wakayama and Nara Prefectures.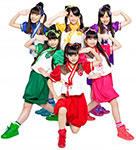 Between October 2013 and March 2014, the members hosted a segment titled Takoyaki Rainbow no Hoku Hoku Radio ya de ~ (たこやきレインボーのホクホクラジオやで~) on the radio show Charge! broadcast on FM Shiga (FM滋賀).
The girls appeared in a CM for Buden Shouten (豊天商店) in February 2014.
Their 2nd single Naniwa no Haniwa (なにわのはにわ) was released in March 2014.
The variety show Mezase Koushien! Tsukataco Rainbow Road (めざせ甲子園!つかたこレインボーロード) is broadcast once a month on Kansai TV (関西テレビ) since April 2014.
Narasaki Towa graduated in June 2014 in order to concentrate on her studies.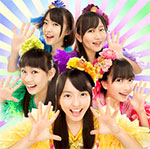 The members of the idol group appeared in a new TV commercial for Buden Shouten in July 2014. The girls designed t-shirts which were sold at Family Mart.
Their 3rd single Zesshou! Naniwa de Umareta Shoujotachi (絶唱!なにわで生まれた少女たち) is on sale nationwide since September 2014.
Tacoyaki Rainbow 1st live performance was held in September 2014 at Umeda Club Quattro, Osaka.
The girls appear in the movie Maku ga Agaru (幕が上がる) which was released in theaters in February 2015 in Japan. Momoiro Clover Z are playing the lead roles in the film.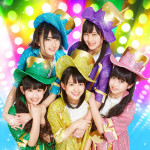 Their 4th single Genki Uri no Shoujo ~Naniwa Meika Gojussen~ (元気売りの少女~浪花名歌五十選~) was the first one to be released nationwide in May 2015.
In late October 2015, the idol group held the special event Takoniji Halloween (たこ虹ハロウィン) at Namba Hatch, Osaka. The girls were wearing costumes on stage.
The single Kuri Bocchi One Day!! (クリぼっちOne Day!!), on sale in December 2015, is their first Christmas song.
Tacoyaki Rainbow signed under Avex Trax label in January 2016.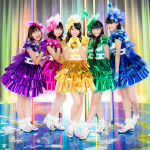 They made their major debut with the single Nanairo Dance (ナナイロダンス) in April 2016. It was produced by Matsukuma Kenta.
The concerts of their Spring tour took place in Tokyo and Nagoya between April and May 2016.
The idol group collaborated with DJ Koo (TRF) and Hyadain (Maeyamada Kenichi) for the single Dot jp Japan! (どっとjpジャパーン!) on sale in August 2016.
Tacoyaki Rainbow are going to release their 1st album at the end of 2016.
Profile
Tacoyaki Rainbow (たこやきレインボー)
Years active : 2012 – present
Label : Avex Trax
Agency : Stardust Promotion
Members
Ayaki Sakura (彩木咲良) – Pink
Hori Kurumi (堀くるみ) – Purple
Haruna Mai (春名真依) – Blue
Negishi Karen (根岸可蓮) – Green
Kiyoi Saki (清井咲希) – Yellow
Former Members
Arai Maria (新井まりあ) – Yellow
Koike Yuka (小池優花) – Orange
Narasaki Towa (奈良崎とわ) – Red
Discography
Singles
17/09/2013 : Over the Takoyaki Rainbow (オーバー・ザ・たこやきレインボー)
19/03/2014 : Naniwa no Haniwa (なにわのはにわ)
03/09/2014 : Zesshou! Naniwa de Umareta Shoujotachi (絶唱!なにわで生まれた少女たち)
20/05/2015 : Genki Uri no Shoujo ~Naniwa Meika Gojussen~ (元気売りの少女~浪花名歌五十選~)
16/12/2015 : Kuri Bocchi One Day!! (クリぼっちOne Day!!)
13/04/2016 : Nanairo Dance (ナナイロダンス)
24/08/2016 : Dot jp Japan! (どっとjpジャパーン!)
Albums
Links
News