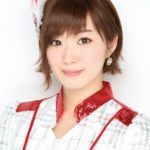 Tanabe Miku announced her graduation from AKB48.
This announcement was made on April 8.
The date of her graduation and last concert hasn't been determined yet.
According to her comments, Tanabe Miku mentioned she has been thinking about her graduation for more than a year.
Despite her not standing out that much during the past 10 years as AKB48 member, Tanabe Miku feels that winning the Janken tournament has helped her achieve her goals and achieve her dreams. Now she wants to pursue her own way.
Indeed, she was the central member in the single Sakasazaka (released last December) of the sub-unit Jankenmin, group resulting from this tournament.
Tanabe Miku is part of the 3rd generation of AKB48 ; she joined Team B in 2007 and then Team K in 2010, before returning to Team B in 2012 ..
She was born on December 2, 1992 and is 24 years old.