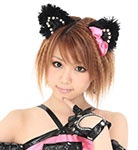 Tanaka Reina announced her graduation from Morning Musume and Hello! Project.
She will pursue her musical career with her own band. 3 other members have been selected to be part of Reina's band : Okada Marina, Uozumi Yuki, and Miyazawa Marin.
Tanaka Reina had joined Morning Musume in January 2003 as a 6th generation member. She will graduate from Hello! Project on May 6 after the final live of Morning Musume Concert Tour 2013 Haru Michishige☆Eleven Soul ~Tanaka Reina Special Commemoration Graduation~.
Reina's new band does not have any name yet, but fans can submit their suggestions by e-mail at [email protected].