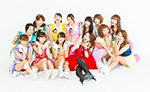 Team Makenki's new single Mugen, Fly High!! (無限、Fly High!!) is going to be released on September 17.
Team Makenki is a special idol unit consisting of members from Up Up Girls (Kari), The Possible and Kikkawa You. They are produced by Up Front.
Check out the MV with English subtitles.
The CD contains various versions of the title song performed by Team Makenki, The Possible, Kikkawa You and Up Up Girls (Kari).
The limited edition includes a bonus DVD with the music video and making-of footage.
Furthermore, the members of Team Makenki are holding live performances and handshake events from September 16 to 19 in Tokyo.
Tracklist
CD

Mugen, Fly High!! (無限、Fly High!!)
Mugen, Fly High!! (The Possible Ver.)
Mugen, Fly High!! (Kikkawa You Ver.)
Mugen, Fly High!! (Up Up Girls (Kari) Ver.)
Mugen, Fly High!! (Instrumental)
DVD

Mugen, Fly High!! (Music Video)
Making-of
Music Video (PV)