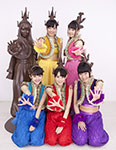 Team Syachihoko formed the new unit Team Syachi Choco (チームしゃちチョコ).
This special idol group was created in collaboration with Lotte in order to promote Valentine's Day chocolates through the campaign Nippon no Valentine ni, Tezukuri Ghana! (ニッポンのバレンタインに、手づくりガーナ!).
Videos showing the members of Team Syachihoko following recipes to cook various types of chocolate have been released.
Team SyachiChoco (チームしゃちチョコ) consists of 5 members out of 6 from Team Syachihoko. Sakamoto Haruna is replaced by her life-size replica in chocolate whose name is SakaChoco Haruna (坂チョコ遥奈).
A special website has been opened : http://lotte-chocotv.jp/syachichoco/
Furthermore, the idol group from Nagoya will hold the live tour Zepp Final! 2014 ~Arigatou wo Tsutaetakute~ (~ありがとうを伝えたくて~) from March 29 to April 19.