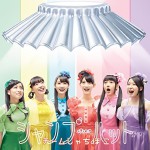 Team Syachihoko's new single Shampoo Hat (シャンプーハット) will be released on December 10.
This is the 5th major single of the idol group and its 7th overall.
This tracklists and the music video were revealed.
The single will be available in two editions: regular and limited. The regular edition will contain the CD only and the limited edition will be available with the CD and a photobook of 16 pages in surchage. The photobook is sold in three different parts, with varying content. The photos in the book were all taken in a park and the members are wearing the school uniforms as per usual. In addition to the title track, the Team Syachihoko members will be reading the lyrics to various songs in the photobook.
The song Shampoo Hat was composed by Kawatami Enon. The B-side song Sweet Memories was written by Asano. The other B-side song It's New Sekai was written and composed by Inoue Tomonori.
Moreover, the Team Syachihoko first album Himatsubushi is on sale since August 20.
Tracklist
CD

Shampoo Hat
Sweet Memories
It's New Sekai (It's New 世界)
 DVD (Nagoya Ban :EVENTBOMBER-E I Night Aki Matsuri Special LIVE)

Dakishimete Anthem
Yoroshiku Jinrui
Dera Disco
Part 1:
Shampoo Hat (シャンプーハット)
Shampoo Hat – Reading: Haruna Sakamoto ~Kinou Mita Yume-hen~
Shampoo Hat – Reading: Chiyuri Itou ~Joyuu Audition-hen~
Part 2:
Shampoo Hat (シャンプーハット)
Shampoo Hat – Reading: Honoka Akimoto ~Radio DJ-hen~
Shampoo Hat – Reading: Yuzu Ando ~Koukou Kyoushi-hen~
Part 3:
Shampoo Hat (シャンプーハット)
Shampoo Hat  – Reading: Nao Sakura ~Nekashitsuke-hen~
Shampoo Hat – Reading: Yuzuki Oguro ~Loveletter-hen~
Music Video (PV)