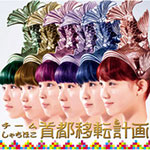 Team Syachihoko's new single Shuto Iten Keikaku (首都移転計画) will be released on June 19.
This will be Team Syachihoko's major debut single. It contains 3 songs and their instrumental versions.
A limited edition including a different coupling track will only be sold in Nagoya, where the unit is based, and at their live performances.
Moreover, the idol group will hold concerts at Zepp Tokyo, Zepp Nagoya, and Hep Osaka in early May.
They will also release Team Syachihoko 1st One-Man Live ~Kimi e no Omoi Jiki Shousou~ (チームしゃちほこ 初ワンマンライブ(決)~君への想い時期尚早~) on DVD and Blu-ray on April 24.
Japanese Edition (ジャパニーズ・エディション)
Shuto Iten Keikaku (首都移転計画)
Soko Soko Premium (そこそこプレミアム)
Maji Kansha (マジ感謝)
Shuto Iten Keikaku (首都移転計画) (Instrumental)
Soko Soko Premium (そこそこプレミアム) (Instrumental)
Maji Kansha (マジ感謝) (Instrumental)
Nagoya Edition (ナゴヤ・エディション)
Shuto Iten Keikaku (首都移転計画)
Soko Soko Premium (そこそこプレミアム)
Summer Lover (サマラバ)
Shuto Iten Keikaku (首都移転計画) (Instrumental)
Soko Soko Premium (そこそこプレミアム) (Instrumental)
Summer Lover (サマラバ) (Instrumental)
Music Video (PV)