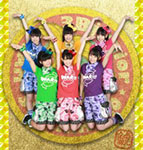 Team Syachihoko will host their first regular variety show titled Yurusyachi (ゆるしゃち).
The TV program will start airing on April 5. Then it will be broadcasted every Friday night (25:34 ~ 25:44) on Nagoya Broadcasting Network (名古屋テレビ).
Moreover, Team Syachihoko 1st One-Man Live ~Kimi e no Omoi Jiki Shousou~ (チームしゃちほこ 初ワンマンライブ(決)~君への想い時期尚早~) will be released on DVD and Blu-ray on April 24.