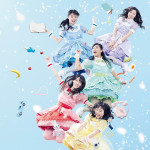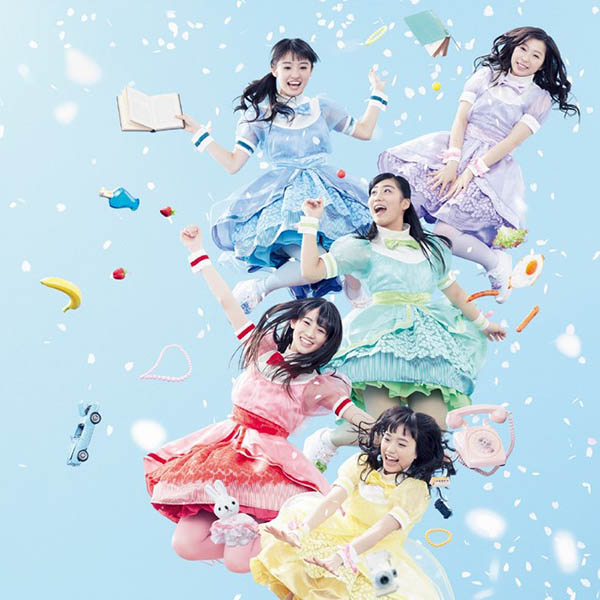 Team Syachihoko (チームしゃちほこ) is a Japanese idol group formed in 2011.
They are also know as Syachi (しゃち).
It currently consists of 6 members. Each one of them has been assigned a color.
Biography / History
The idol unit is based in Nagoya in Aichi Prefecture.
Team Syachihoko is managed by Stardust Promotion and is part of its Section 3. The girls were formerly members of 3B Junior.
It is a sister group of Momoiro Clover Z (ももいろクローバーZ), Shiritsu Ebisu Chuugaku (私立恵比寿中学) and Takoyaki Rainbow (たこやきレインボー).
Team Syachihoko released its 1st single Koibito wa Sniper / Goburei! Shachihoko Deluxe (恋人はスナイパー/ごぶれい!しゃちほこでらックス) in April 2012.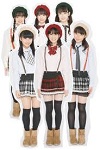 The idol unit held its 1st live tour in September 2012.
The members host the variety show Yurusyachi (ゆるしゃち) broadcast on Nagoya TV (メ~テレ) since April 2013. Every week, the girls face challenges on different themes.
Team Syachihoko made its major debut in June 2013 under the label Warner Music Japan with the single Shuto Iten Keikaku (首都移転計画).
The concert Team Syachihoko Ai no Chikyuu Matsuri 2013 (チームしゃちほこ 愛の地球祭り2013 in 愛知県体育館) was held at Aichi Prefecture Gymnasium in December 2013.
Sakamoto Haruna went on hiatus during a few weeks in the beginning of 2014 in order to prepare an important school exam.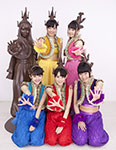 In February 2014, the special unit Team Syachi Choco (チームしゃちチョコ) was formed in collaboration with with Lotte in order to promote Valentine's Day chocolates through the campaign Nippon no Valentine ni, Tezukuri Ghana! (ニッポンのバレンタインに、手づくりガーナ!).
In March 2014, the girls were appointed as official supporters of the Android application Noom.
In April 2014, comedian Edo Harumi temporarily replaced Sakamoto Haruna on the covers of Iikurashi (いいくらし).
The coupling song of this single, Team Syachihoko no Yasai Seikatsu Taisou (チームしゃちほこの野菜生活体操), is used in a promotional campaign for the vegetable juice brand Yasai Seikatsu 100 (野菜生活100) featuring the members of the idol group.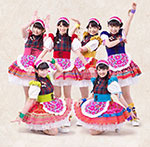 The girls participated in a promotional campaign for Lawson (ローソン) stores during the summer 2014.
Team Syachihoko held its 1st live performance at Nippon Budokan, Tokyo in August 2014. The concert is titled Syachi-sama 2014 ~Kamigami no Matsuri~ (しゃちサマ2014~神々の祭り~).
Their TV variety show Team Syachihoko no Maji de Gachi Nandesu Kedo! (チームしゃちほこの マジでガチなんですけどぉ~!), also know as Maji Gachi (マジガチ), is going to start airing on BS Fuji (BSフジ) in October 2014. The members of Takoyaki Rainbow also participate in the program.
The idol group and Melantrick Hemlighet fashion brand opened in collaboration a shop in Fukuoka for a limited period of time in October 2014. Various products such as dress, t-shirts, iPhone cases… were on sale. The campaign is going to be reconducted in Nagoya in 2015.
They opened their official Line account in late October 2014.
Team Syachihoko held a live performance in Dalian, China, in March 2015. They participated in the 2nd Dalian Japan Brand (第2回大連ジャパンブランド) festival. The aim of the event was to promote Japanese goods and culture to Chinese consumers.
The idol group collaborated with British electronic dance music duo Basement Jaxx during their live tour in Japan in March 2015.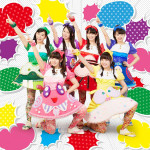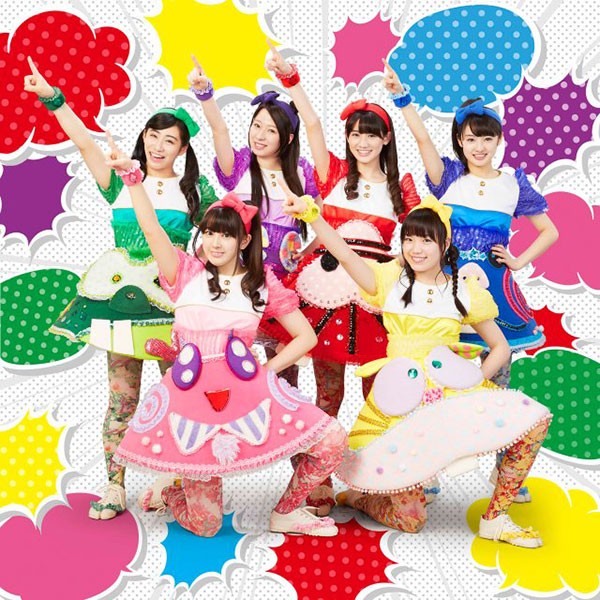 In May 2015, Ando Yuzu appeared on stage in a wheelchair at Makuhari Hollywood concert due to foot injury.
Their 5th single Tensai Bakabon (天才バカボン) is the opening theme song for the anime movie of the same title based upon the manga created by Akatatsuka Fujio.
Akimoto Honoka also performed as a voice actress in this movie.
Tagaki Reni (Momoiro Clover Z), Mayama Rika (Shiritsu Ebisu Chuugaku) and Ohguro Yuzuki (Team Syachihoko) formed Team Murasaki Shikibu (Team紫しきぶ) in June 2015. Each one has been selected because her image color is purple in her own unit.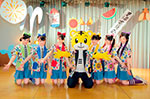 In June 2015, Team Syachihoko collaborated with anime character Shimajiro (しまじろう) for a song titled Jiri Jiri Natsu Katsu Iinkai (じりじり夏活委員会).
In September 2015, Ito Chiyuri appeared on Weekly Golf Digest (週刊ゴルフダイジェスト) magazine. She talked about her passion for this sport.
The mini-albums Iijanaika (いいじゃないか) and Eejanaika (ええじゃないか) were successively released in September and in October 2015.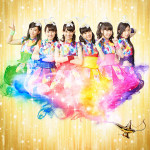 In November 2015, Ando Yuzu went on temporary hiatus due to poor physical health. She had been diagnosed with vertigo.
The members have been apporinted official supporters of Nagoya Meshi Expo 2015 (なごやめし博覧会2015) which will take place from October to November 2015. This gastronomic event promotes Japanese food and local dishes.
In December 2015, each member held a solo live performance at the Aichi Electric Lady Land.
In January 2016, Akimoto Honoka was appointed image character for Meitetsu µ's Card (名鉄ミューズカード).
In January 2016, Ohguro Yuzuki caught the influenza. She had to be absent at some events.
Ando Yuzu, who hasn't recovered, suspended activities indefinitely in February 2016.
The smartphone game app Syachiho Call (しゃちほこ~る) was released in February 2016. It is a rhythm game available on Android and iPhone.
Team Syachihoko 2016 ~Victory Hajimemashita (チームしゃちほこ2016~Victoryはじめました~) is going to be held from March to May. As part of this project, the idol group members participated in various events (special talk session, 2-shot cheki photo session…) in many cities across Japan.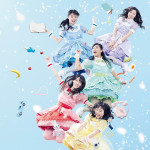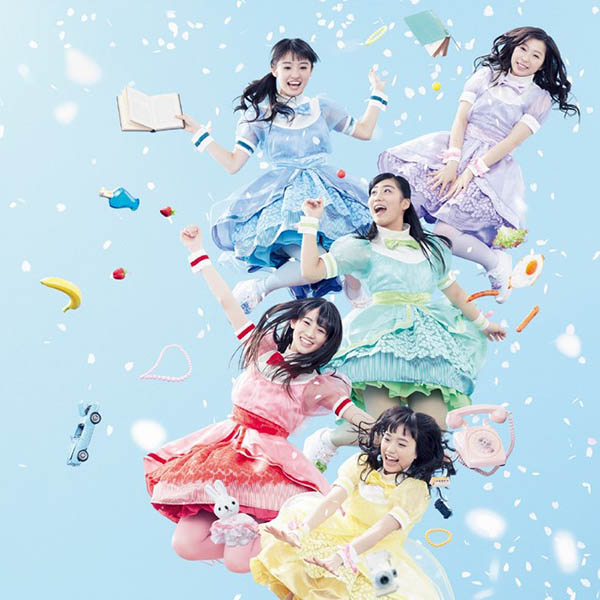 The single Chérie!, on sale in April 2016, is the opening theme song for the anime Neko Neko Nihonshi (ねこねこ日本史).
Akimoto Honoka has also participated in this anime as a voice actress.
In order to celebrate its 5th anniversary, Team Syachihoko is going to perform live shows at famous venues : Makuhari Messe (May 2016), Nippon Budokan (August 2016), Yokohama Arena (November 2016) and Nippon Gaishi Hall (March 2017). They aim to gather a total of 50000 people in 5 concerts as the title of this event suggests (5年目5公演5万人).
Team Syachihoko will hold a concert and a bus tour in Taiwan in June 2016. The initial live performance, which was scheduled in February, had to be cancelled due to an earthquake.
Ito Chiyuri is the younger sister of Ito Chisami (GEM).
Profile
Team Syachihoko (チームしゃちほこ) / Syachi (しゃち)
Years active : 2011 – present
Label : Warner Music Japan
Agency : Stardust Promotion
Members
Akimoto Honoka (秋本帆華) – Red
Ito Chiyuri (伊藤千由李) – Yellow
Ando Yuzu (安藤ゆず) – Pink
Sakamoto Haruna (坂本遥奈) – Green
Sakura Nao (咲良菜緒) – Blue
Ohguro Yuzuki (大黒柚姫) – Purple
Discography
Singles
26/04/2012 : Koibito wa Sniper / Goburei! Shachihoko Deluxe (恋人はスナイパー/ごぶれい!しゃちほこでらックス)
07/07/2012 : Triple Seven (トリプルセブン)
31/10/2012 : The Stardust Bowling (ザ・スターダスト・ボウリング)
19/12/2012 : Otome Juken Sensou (乙女受験戦争)
19/06/2013 : Shuto Iten Keikaku (首都移転計画)
30/10/2013 : Ai no Chikyuu-sai (愛の地球祭)
14/05/2014 : Iikurashi (いいくらし)
10/12/2014 : Shampoo Hat (シャンプーハット)
13/05/2015 : Tensai Bakabon (天才バカボン)
07/04/2016 : Chérie!
Other Singles
21/12/2013 : Tokeiji Kake no Unit-tachi Vol.1 Aichi-ken Taiikukan Ban (時計じかけのユニットたちvol.1 愛知県体育館盤)
Albums
30/09/2015 : Iijanaika (いいじゃないか)
28/10/2015 : Eejanaika (ええじゃないか)
Links
News