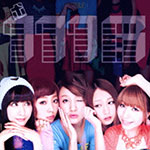 The Possible's new album 1116 was released on September 3.
This album contains 13 songs including the greatest hits from The Possible.
Check out the MVs.
It includes songs from the singles of the idol group released unver Victor Entertainment during the last 2 years.
The CD comes with a trading card.
2 editions are available.
Tracklist
Ribon (りぼん)
Do Me! Do!
Lovely! Lovely!
Otome! Be Ambitious! (乙女! Be Ambitious!)
Nanja Korya (なんじゃこりゃ) (Vocal Nude Version)
Yuuki Super Ball! (勇気スーパーボール!) (Album Version)
Sakura (さくら)
Nanka Sungoi Koto mo Dekisou Da Zou! (なんかすんごい事もできそーだぞーう!)
Koi ga Dancin' (恋がダンシン!)
Eien Fireball (永遠ファイヤーボール)
Saa Koi! Happiness! (さぁ来い!ハピネス!)
Zenryoku Banzai! My Glory! (全力バンザーイ!My Glory!)
Utsukushisa wo Tabanete (愛しさを束ねて)
Music Video (PV)