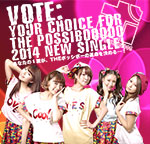 The Possible will release their new single in March 2014.
For the first time for an idol group, the song on this upcoming single will be determined by the choice of their fans.
Fans have to choose between 6 songs by The Possible. You can listen to them on a special website that has just opened.
There are 3 ways to vote : by internet (1 point), by sending a postcard (5 points), or at the venue during a live performance (10 points). It is limited to one vote per person and per day.
The final results will be announced during the live performance of The Possible that will be held on January 17 at Shinjuku Blaze.