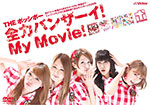 The Possible's new DVD Zenryoku Banzai! My Movie! (全力バンザーイ! My Movie!) was released on July 23.
This DVD includes all videos from The Possible since the idol group was transferred to Victor Entertainment 2 years ago.
It includes MV, making-of footage, cover photoshoot, and other bonus videos from the following singles : Nanja Korya (なんじゃこりゃ), Zenryoku Banzai! My Glory! (全力バンザーイ!My Glory!), Otome! Be Ambitious (乙女!Be Ambitious), Yuuki Super Ball! (勇気スーパーボール!), and Shiawase no Tenbin (幸せの天秤).
The total duration is approximately 90 minutes.
The first press edition comes with a trading card.
Tracklist
Opening
Nanja Koriya?! (なんじゃこりゃ?!) (MV)
Making of Nanja (メイキング・オブ・なんじゃ)
Zenryoku Banzai! My Glory! (全力バンザーイ!My Glory!) (MV)
Making of Zenryoku (メイキング・オブ・全力)
Otome! Be Ambitious! (乙女! Be Ambitious!) (MV)
Making of Otome (メイキング・オブ・乙女)
Yuuki Super Ball! (勇気スーパーボール!) (MV)
Making of Yuuki (メイキング・オブ・勇気)
Shiawase no Tenbin (幸せの天秤) (MV)
Treasure Video Compilation (秘蔵映像集) (Part 1)
Treasure Video Compilation (秘蔵映像集) (Part 2)
Treasure Video Compilation (秘蔵映像集) (Part 3)