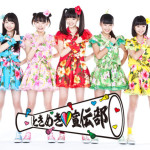 Tokimeki Sendenbu (ときめき♡宣伝部) is a Japanese idol group formed in 2015.
They are also known as TokiSen (とき宣).
The unit currently consists of 5 members. Each one has been assigned a color.
Biography / History
The idol unit is managed by Stardust Promotion and is part of its Section 3.
It is a sister group of Momoiro Clover Z, Shiritsu Ebisu Chugaku, Team Syachihoko and Takoyaki Rainbow.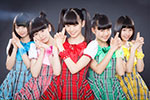 Tokimeki Sendenbu were created in April 2015.
The girls had previously debuted in Kagajo☆4S TV show Shiritsu Teru Onna Gakuen (私立輝女学園) season 2. They took part in the program from April 2014 to March 2015.
Their catchphrase is "Lock on your heart" (君のハートにロックオン♡).
The fans are called Toki Mates (ときメイツ).
Tokimeki Sendenbu's 1st single Dokkyun!! Shoujo (土っキュン♡!!少女) was released in June 2015.
In August 2015, Sakai Hitoka won the Miss Seventeen 2015 (ミスセブンティーン2015) grand prix. After this success, she became an exclusive model for Seventeen fashion magazine.
Their 2nd single Kisetsu Hazure no Tokimeki Summer (季節外れのときめき♡サマー) went on sale in December 2015.
The idol group will release its 3rd single Muteki no Uta (むてきのうた) in.June 2016.
The members of Tokimeki Sendenbu will be starring in a stage play in November 2016 at Tokyo CBGK Shibugeki.
Profile
Tokimeki Sendenbu (ときめき♡宣伝部)
Years active : 2015 – present
Label : –
Agency : Stardust Promotion
Members
Tsujino Kanami (辻野かなみ) – Purple
Koizumi Haruka (小泉遥香) – Pink
Sakai Hitoka (坂井仁香) – Red
Yoshikawa Hiyori (吉川ひより) – Green
Nagasaka Mako (ながさか まこ) – Yellow
Discography
Singles
24/06/2015 : Dokkyun!! Shoujo (土っキュン♡!!少女)
02/12/2015 : Kisetsu Hazure no Tokimeki Summer (季節外れのときめき♡サマー)
01/06/2016 :
Albums
Links
News