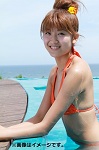 Tokunaga Chinami's (Berryz Kōbō) 1st solo DVD Orange (オレンジ) will be released on October 15.
After having reached the age of majority (20 years old in Japan) in May, Tokunaga Chinami shows her growth into an adult in this DVD.
The title Orange refers to her color with Berryz Kōbō.
Digest Video