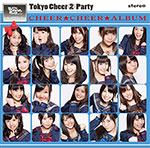 Tokyo Cheer2 Party's new album Cheer Cheer Album (チアチアルバム) will be released on December 25.
This is the 1st album from Tokyo Cheer2 Party. It contains 16 songs includes their latest singles and 2 bonus tracks.
2 editions are available : one with a normal cover, and another one with a Christmas cover. The tracklist is the same for both of them.
Moreover, Tokyo Cheer2 Party will hold their X-mas Live on December 25 at Tsutaya O-Crest.
The idol group will also hold a concert on May 6 at Nippon Seinenkan.
Tracklist
Theme of TC2P (Type-M)
Gamishara Spirits (ガムシャラスピリッツ)
Muteki no V Sign (無敵のVサイン)
Genki Da Sou yo (元気だそうよ)
Massugu Sugu (まっすぐすぐ)
Tomodachi (友達)
Rise
Happy Happy (はっぴーハッピー)
Katatataki no Uta (カタタタキノウタ)
Manabi no Michi (学びの道) (Album ver.)
Yume ni Mukatte… (夢に向かって…)
Arigato Chan (ありがとちゃん)
Cheer Cheer Christmas (チアチアクリスマス)
Iijan! (いいじゃん!)
Bonus Track
Theme of TC2P (Type-R)
Theme of TC2P (Type-P)