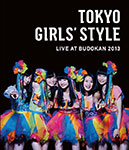 Tokyo Girls' Style Live at Budokan 2013 will be released on DVD and Blu-ray on April 16.
The concert was held on December 22 at Nippon Budokan. It was their 2nd live performance at this venue.
The setlist has 23 songs including solo performances by the members of Tokyo Girls' Style and their latest singles.
The DVD and the Blu-ray include making-of footage.
The complete edition includes 2 bonus disc featuring videos from Tokyo Girls' Style 3rd Japan Tour 2013 ~Yakusoku (約束)~ and Tokyo Girls' Style Sure Sure TV! Premium Live "5-tsu no Mahou" (東京女子流スレスレTV!Premium Live「5つの魔法」).
Furthermore, the idol group's 4th album Killing Me Softly will go on sale on June 4.
Tracklist
Disc 1

Attack Hyper Beat Pop
W.M.A.D
Futarikiri (ふたりきり)
Liar
Kitto Wasurenai… (きっと 忘れない、、、)
Don't Be Cruel
Kodou no Himitsu (鼓動の秘密)
Tsuki to Sayonara (月とサヨウナラ)
Regret.
Unmei (運命)
Spika feat. Konishi Ayano (Maltine Girls Wave)
マジ勉NOW! feat. Arai Hitomi (Maltine Girls Wave)
Day By Day feat. Nakae Yuri (Maltine Girls Wave)
Umbrella feat. Yamabe Miyu (Maltine Girls Wave)
Kawaii Rave feat. Shoji Mei (Maltine Girls Wave)
Get The Star
Partition Love
Mine
Ganbatte Itsudatte Shinjiteru (頑張って いつだって 信じてる)
Chiisana Kiseki (ちいさな奇跡)
Himawari to Hoshikuzu (ヒマワリと星屑)
Onnaji Kimochi (おんなじキモチ) (Encore)
Kirari (キラリ☆) (Encore)
Tokyo Girls' Style Live at Budokan 2013 (Making Movie)
Disc 2 – Tokyo Girls' Style 3rd Japan Tour 2013 ~Yakusoku (約束)~ Document

Bad Flower [Live @ Yokohama Blitz 2013.5.19]
Sore de Ii Jan (それでいいじゃん) [Live @ Yokohama Blitz 2013.5.19]
Zepp Tokyo Making
Maboroshi (幻) [Live @ Yokohama Blitz 2013.5.19]
Zepp Nagoya Making
Zepp Namba Making
Discord (ディスコード) [ive @ Yokohama Blitz 2013.5.19]
Zepp Fukuoka Making
Unmei (運命) [Live @ Yokohama Blitz 2013.5.19]
Futarikiri (ふたりきり) [Live @ Yokohama Blitz 2013.5.19]
Rensa Making
Zepp Sapporo Making
Yokohama Blitz [2013.5.18] Making
Yokohama Blitz [2013.5.19] Making
Yakusoko (約束) [Live @ Yokohama Blitz 2013.5.19]
Yakusoku (約束) [Live @ Yokohama Blitz 2013.5.19]
Disc 3 – Tokyo Girls' Style Sure Sure TV! Premium Live "5-tsu no Mahou" (東京女子流スレスレTV!Premium Live「5つの魔法」) @ Shibuya Public Hall 2013.7.21

Himawari to Hoshikuzu (ヒマワリと星屑)
W.M.A.D
Sore de Ii Jan (それでいいじゃん)
Fashion Show (ファッションショー)
Unmei (運命)
Arai Hitomi no Magic Show (新井ひとみのマジックショー)
Yamabe Miyu no Performance (山邊未夢のパフォーマンス)
Bad Flower
LolitA☆Strawberry in summer
Nakae Yuri no Manzai (中江友梨の漫才)
Kodou no Himitsu (鼓動の秘密)
Liar
Konishi Ayano no Drum (小西彩乃のドラム)
Shoji Mei to Keisatsu Ken Max (庄司芽生と警察犬Max)
Onnaji Kimochi (おんなじキモチ)
Get The Star
Last Forever