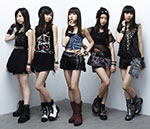 Tokyo Girls' Style's new single Road to Budokan 2013 ~Chiisana Kiseki~ (~ちいさな奇跡~) will be released on November 22.
It is the ending theme song for the anime Hana Kappa (はなかっぱ).
The Type A and B editions come with a DVD featuring the music video, the making-of, or other bonus footage.
Check out the dance rehearsal video and the MV.
Moreover, Tokyo Girls' Style will hold the event Live at Budokan 2013  on December 22. It will be the 2nd consecutive year that the idol group will hold a concert at Nippon Budokan.
Furthermore, Tokyo Girls' Style 13th single Get the Star / Last Forever is on sale since September 25.
Type A
CD

Chiisana Kiseki (ちいさな奇跡)
Mine
Ganbatte Itsudatte Shinjiteru (頑張って いつだって 信じてる) -2013 ver.-
Chiisana Kiseki (ちいさな奇跡) (Instrumental)
Mine (Instrumental)
DVD

Chiisana Kiseki (ちいさな奇跡) (Music Video)
Making of
Type B
CD

Chiisana Kiseki (ちいさな奇跡)
Mine
Chiisana Kiseki (ちいさな奇跡) (Instrumental)
Mine (Instrumental)
DVD

Odekake Movie (おでかけムービー)
Type C
CD

Chiisana Kiseki (ちいさな奇跡)
Mine
Mine -Royal Mirrorball Mix-
Chiisana Kiseki (ちいさな奇跡) (Instrumental)
Mine (Instrumental)
Music Video (PV)