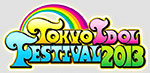 Tokyo Idol Festival 2013 Chou Zenyasai (超前夜祭) will be held on May 14 at Roppongi Nicofarre, Tokyo.
Idoling!!!, Idol College, Up Up Girls, AeLL, and The Possible will perform at the concert.
This live will come just before the press conference for Tokyo Idol Festival 2013. The mid-summer event will take place on July 27-28. The first guests participating in TIF 2013 have already been announced.
Schedule
Date : 15/05/2013
Time : 18:00
Venue : Roppongi Nicofarre, Tokyo
Line up :

Idoling!!!
Idol College
Up Up Girls
AeLL
The Possible