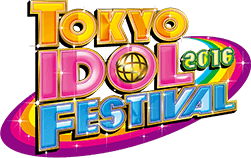 The Tokyo Idol Festival 2016 (東京アイドルフェスティバル2016) comes back in August 2016 and will be held in Odaiba, Tokyo, on August 5, 6 and 7.
POP (Period Of Plastic 2 Mercy), Kikkawa You, les Terashima Yufu and Hiiragi Rio will be present at the TIF 2016. Kikkawa You had already partipated in the event the last year.
The time table will be soon unveiled on this link, however the list of idols who will participate in the festival was unveiled. It's a very long list but full of idols including those that you probably like.
The members will participate in various activites such as live performances, meet-and-greet sessions with fans…
New idol groups recently formed will be present to promote themselves.
More informations will be revealed later.
Groups :
Solo Idols :
New groups :
JELNO!
dance for philosophy