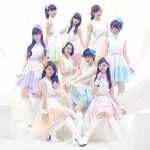 Tokyo Performance Doll (東京パフォーマンスドール) is a Japanese idol group reformed in 2013. They are also known as TPD.
It currently consists of 9 members.
The leader is Takashima Nana.
Biography / History
The 1st Generation of Tokyo Performance Doll was active from April 1990 to 1996. It comprised 7 main members, and additional members at concerts. The girl group released several singles and albums during this period. Some sub-units such as Golbies (ゴルビーズ) had also been created.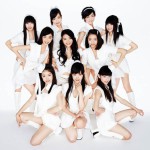 After 17 years of inactivity, the idol group revived in 2013 with a new line-up.
8800 girls coming from all over Japan participated in the audition. 10 members were selected to be part of the 2nd Generation of Tokyo Performance Doll. They were introduced at a special event held at CGBKシブゲキ in June 2013.
Kitasako Hideaki is in charge of the costume design. The concept is "near future" and "elegant". The main color is white.
They host the TV variety show Tokyo Koukyuu Kyoushitsu  ~Road to 2020~ (東京号泣教室 ~Road to 2020~) since October 2013.
Minami Sana withdrew in January 2014 due to poor physical health.
They performed the theme song for the anime Kindaichi Case Files R (金田一少年の事件簿R) in February 2014.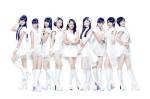 TPD made their CD debuts with the single Brand New Story released in June 2014.
They held their 1st overseas live in Hong Kong, China, in July 2014. They were the guests of the 16th ACG HK. This event is convention dedicated to anime, comics and games.
Tokyo Performance Doll Live Tour 2014 ~Dance Summit "1×0" ver1.0~ took place in August 2014 in Nagoya, Tokyo and Osaka.
The idol group's songs are available worldwide on iTunes Store and Amazon MP3 since January 2015.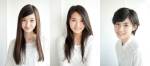 Tashima Nana appeared in the drama Gakkou no Kaidan (学校のカイダン) in January 2015.
Waki Akari played in the drama Zannen na Tsuma (残念な夫) in January 2015.
Jonishi Seira debuted as an actress in the drama Second Love (セカンド・ラブ) in February 2015.
Tokyo Performance Doll's sister group TPD Dash!! was created in February 2015.
The idol unit performed the opening theme for the anime Ultimate Otaku Teacher (電波教師) in April 2015.
They released their major debut single Dreamin' in June 2015. The CD reached the 3rd rank on the Oricon weekly chart.
Profile
Tokyo Performance Doll (東京パフォーマンスドール ; TPD)
Years active : 1990 – 1996 ; 2013 – present
Label : Epic Records Japan
Agency : Cube
Members
Takashima Nana (高嶋菜七)
Jonishi Seira (上西星来)
Sakurai Saki (櫻井紗季)
Hamasaki Kaho (浜崎香帆)
Waki Akari (脇あかり)
Iida Sakurako (飯田桜子)
Shingu Saki (神宮沙紀)
Kobayashi Anyu (小林晏夕)
Tachibana Futaba (橘二葉)
Former Members
Discography
Singles
11/06/2014 : Brand New Story
26/11/2014 : Dream Trigger
10/06/2015 : Dreamin'
Albums
Links
News