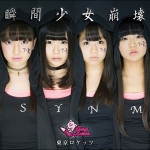 Tokyo Rockets' new single Shunkan Shoujo Houkai (瞬間少女崩壊) will be released on April 1st.
This is the debut single from Tokyo Rockets.
The MV has been unveiled.
The idol group performs rock songs. The girls are known for their powerful live performances.
Tokyo Rockets is a sister group of Party Rockets.
2 versions of the CD are available. The coupling song is different depending on the edition.
Tracklist
Type A

Shunkan Shoujo Houkai (瞬間少女崩壊)
Danzen Chouzetsu Kiss (断然超絶Kiss)
Shunkan Shoujo Houkai (Instrumental)
Danzen Chouzetsu Kiss (Instrumental)
Type B

Shunkan Shoujo Houkai
Pinocchio Doll (ピノキオドール)
Shunkan Shoujo Houkai (Instrumental)
Pinocchio Doll (Instrumental)
Music Video (PV)