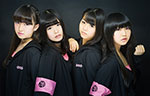 Tokyo Rockets (東京ロケッツ) is Japanese idol group formed in 2013.
It currently consists of 4 members.
They are a sister group of Party Rockets.
Biography / History
The auditions were held by Rocket Beats in 2013. 4 teenage girls were selected.
The idol unit performs rock songs. The girls give energetic performances on stage.
Tokyo Rockets held their debut live in October 2013 at Akiba Cultures Theater. The event was sold out. 250 persons attended the performance.
Following this success, their 1st one-man live was held in November 2013 at Shibuya WWW.
Tokyo Rockets' 1st single Shunkan Shoujo Houkai (瞬間少女崩壊) was released in April 2015.
Profile
Tokyo Rockets (東京ロケッツ)
Years active : 2013 – present
Label : Universal Music
Agency : Rocket Beats
Members
Yano Yuuki (矢野悠来)
Aoi Nozomi (蒼井望美)
Uematsu Sae (植松咲衣)
Asari Momoko (浅利 桃子)
Discography
Singles
01/04/2015 : Shunkan Shoujo Houkai (瞬間少女崩壊)
Albums
Links
News