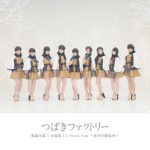 Tsubaki Factory will release their new single Teion Yakedo / Shunrenka / I Need You ~Yozora no Kanransha~ (低温火傷/春恋歌/I Need You~夜空の観覧車~) on February 21st.
This is the 3rd major single of the idol group Tsubaki Factory.
The song Teion Yakedo was written by Kodama Ameko and composed by Ohashi Riko.
The song Shunrenka was written by Omori Shoko and composed by Suzuki Akinori.
The song I Need You ~Yozora no Kanransha~ was written and composed by Hoshibe Sho.
The single will be sold in seven versions: 3 regular editions A, B and C (including CD only) and 4 limited editions rated A, B, C and SP (containing each one with a different DVD and a serial number card which, when entered in a lottery, could win a ticket to one of the single's launch events).
A special box set, including all versions of the single, will be available.
Tracklist
CD

Teion Yakedo (低温火傷)
Shunrenka (春恋歌)
I Need You ~Yozora no Kanransha~ (I Need You~夜空の観覧車~)
Teion Yakedo (Instrumental)
Shunrenka (Instrumental)
I Need You ~Yozora no Kanransha ~ (Instrumental)
Limited Edition Type A DVD

Teion Yakedo (Music Video)
Limited Edition Type B DVD

Shunrenka (Music Video)
Limited Edition Type C DVD

I Need You ~Yozora no Kanransha~ (Music Video)
Limited Edition SP DVD

Teion Yakedo (Dance Shot Ver.)
Shunrenka (Dance Shot Ver.)
I Need You ~Yozora no Kanransha~ (Dance Shot Ver.)
Music Video (PV)