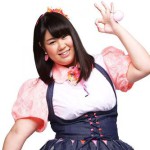 The idol Tsukada Emi (塚田 恵未) left the "chubby girl" group Pottya on July 6.
This announcement was made by herself on her blog July 3. No specific reason for the departure was unveiled, however, it was said that this would be a withdrawal.
The idol group is now reduced to 5 members. However, it was announced that new members would integrate Pottya.
The Pottya were formed in October 2014. The concept of this group is to encourage "chubby" girls to pursue their dream of becoming idols. They already released their first CD single Po・Po・Po・Pocha Rinko☆ / Bye Bye Kataomoi (ポ・ポ・ポ・ポチャリン子☆ / バイバイ片想い) since last April.