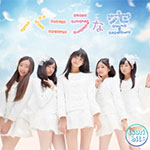 Tsuri Bit's new single Vanilla na Sora (バニラな空) will be released on November 27.
It is the 2nd CD single from Tsuri Bit. The title song is a "winter love story" which is the continuation of their 1st single Manatsu no Tentai Kansoku (真夏の天体観測).
The music video has been revealed.
3 editions are available. The coupling song is different for each one of them.
The regular editions have jackets with 2 themes : idol and fishing.
The limited edition comes with a DVD featuring the music video and bonus footage.
Furthermore, TsuriBit's latest digital single Fish Island is on sale since October 10. The song is available on the Type B of this CD single.
Type A
CD

Vanilla na Sora (バニラな空)
Kokuhaku Switch (告白スイッチ)
Vanilla na Sora (バニラな空) (Instrumental)
Kokuhaku Switch (告白スイッチ) (Instrumental)
Type B
CD

Vanilla na Sora (バニラな空)
Fish Island
Vanilla na Sora (バニラな空) (Instrumental)
Fish Island (Instrumental)
Limited Edition
CD

Vanilla na Sora (バニラな空)
Zuki Zuki Monogatari ~Koi no Halloween Daisakusen~ (ズキズキ物語~恋のハロウィン大作戦~)
Vanilla na Sora (バニラな空) (Instrumental)
Zuki Zuki Monogatari ~Koi no Halloween Daisakusen~ (ズキズキ物語~恋のハロウィン大作戦~) (Instrumental)
DVD

Vanilla na Sora (バニラな空) (Music Video)
Bonus Footage (

特典映像

)
Music Video (PV)