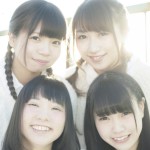 Tsuyogari Sensation (強がりセンセーション) is a Japanese idol group formed in 2014.
They are also known as Tsuyo Sen (強セン).
The unit currently consists of 4 members. Each one has been assigned a color.
It is based in Tokyo. The girls hold regular live performances in this area.
Biography / History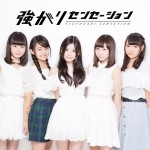 Tsuyogari Sensation debuted activities in August 2014. The 5 original members were Ichikawa Yua, Kamijo Emika, Sasaki Tsuzuka, Aoi Chihiro and Fujimoto Aya.
Sasaki Tsuzuka graduated in September 2014. Later, she joined Alice Project and Kamen Joshi (仮面女子) under the name of Shiraba Tsuzuka (白羽都々華).
Aoi Chihiro and Fujimoto Aya announced their graduation in February 2015. Aoi Chihiro pursued activities with BiSH and changed her name to Sen to Chihiro Chitti (セントチヒロ・チッチ).
As a result, Yamamoto Naho, Suzumori Reina, Mizuki Anju and Matsumoto Yuria were recruited as Tsuyogari Sensation 2nd generation members in the beginning of 2015.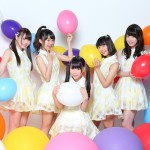 Suzumori Reina and Mizuki Anju left the idol group in August 2015.
Tsuyogari Sensation's 1st single #Yume no Tsuzuki (#夢の続き) was released in August 2015. It ranked 1st on the Oricon daily chart.
Fujii Mutsumi and Mizuhara Yui joined the idol group as part of the 3rd generation in October 2015.
Matusmoto Yuria announced her graduation in November 2015.
Tsuyogari Sensation 1st one-man Live Sore Demo Watashi wa (それでも私は) was held in December 2015 at Shinjuku Blaze, Tokyo.
Kamijo Emika left in January 2016.
Profile
Tsuyogari Sensation (強がりセンセーション) / Tsuyo Sen (強セン)
Years active : 2014 – present
Label : –
Agency : Freo Entertainment
Members
Ichikawa Yua (市川結愛) – Purple
Yamamoto Naho (山本なほ) – Yellow
Fujii Mutsumi (藤井睦) – Green
Mizuhara Yui (水原ゆうい) – Blue
Former Members
Sasaki Tsuzuka (笹木都々華)
Aoi Chihiro (蒼井ちひろ)
Fujimoto Aya (辻本あや)
Suzumori Reina (鈴森玲奈)
Mizuki Anju (瑞月杏樹)
Matsumoto Yuria (松本百合愛)
Kamijo Emika (上條笑果)
Discography
Singles
04/08/2015 : #Yume no Tsuzuki (#夢の続き)
01/03/2016 : #Kirameite (#煌めいて)
Albums
Links
News