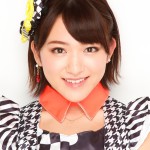 Uchida Mayumi announced her graduation from AKB48.
Ucchi explained that she had décided to leave the idol group, but that she had no regrets about the past years.
She made this announcement during a handshake event during held on August 7 at Makuhari Messe, Chiba.
Uchida Mayumi opened a yakinuku restaurant whose name is 焼肉 IWA in 2014 in Shin-Okuba, Tokyo. She wants to pursue her activities as the owner of the restaurant and her career in the entertainment industry.
The date of her graduation live performance hasn't been determined yet.
Uchida Mayumi is a 5th generation member of AKB48. She debuted as a Kenkyusei in 2008, and was promoted to Team K in 2010.
She had won the AKB48 Janken Tournament 2010. As a result, she was the center on AKB48's 19th single Chance no Junban.
Her 1st photo essay Iwa ni Shimiiru "Uchida-san" no Koe (岩にしみ入る「内田さん」の声) was released in February 2013.
As an author, Uchida Mayumi wrote the novel Ienai Koigokoro (言えない恋心) published in January 2014. This book depicts a romantic fiction about idols.