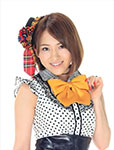 Uchida Mayumi's book Ienai Koigokoro (言えない恋心) will be released on January 31.
Uchida Mayumi is the first member of AKB48 to make her debut as an author. She wrote a romantic fiction about idols. Ienai Koigokoro is a collection of short love stories.
Ienai Koigokoro is published by Kodansha. The book has 192 pages.
Uchida Mayumi is a member of AKB48 Team K since 2010. She won the AKB48 Janken Tournament 2010 (AKB48じゃんけん大会公式ガイドブック2010) and was the center for the 19th single of the idol group Chance no Junban (チャンスの順番).