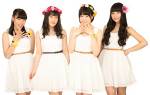 Ultra Girl is a Japanese idol group formed in 2012.
It currently consists of 4 members. Each one has been assigned a color.
The idol unit is based in Tokyo.
Biography / History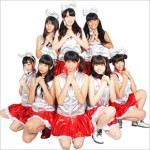 The concept is : "cute super heroes in charge of fulfilling your heart with happiness" (『あなたの心を幸せで満たすために立ち上がった可愛い正義の味方』).
Ultra Girl was created in March 2012. The 8 original members were Arai Fumika, Suzuki Noa, Kaneko Yui, Hirose Miyu, Shirakawa Kanon, Watanabe Arina, Aso Tomoyo and Kawasaki Serina.
The idol group made its live debut at Kichijoji Club Seata, Tokyo, in May 2012.
Ultra Girl's 1st single Seigi no Mikata (正義の味方) was released in July 2012.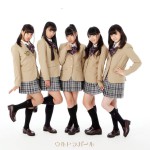 Shirakawa Kanon announced her graduation in April 2013.
Their 1st one-man live was held in May 2013 at Shibuya Deseo, Tokyo. This event celebrated the 1st anniversary of their debut.
Kaneko Yui graduated in May 2013 in order to pursue her career as an actress. She appeared on several movies, dramas and stage plays.
Watanabe Arina withdrew from the idol unit in August 2013.
Suzuki Noa was in charge of writing the lyrics for their 3rd single Ultra Ouen Uta (ウルトラ応援歌) on sale in October 2013.
In September 2014, it was decided that the name of their fans is "hero" (ヒーロー).
Suzuki Noa wrote the lyrics of their 6th single Kimi! Hero ni Natte (君!ヒーローになって) released in September 2014.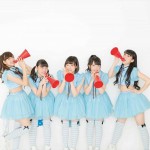 Ultra Girl made their major debut with their 7th single No.1 / Mugamuchuu (No.1 / 無我夢中) released under VersionMusic label in March 2015.
Suzuki Noa announced her graduation in May 2015.
In July 2015, the spelling of the idol group's name was changed from "ウルトラガール" (in Japanese) to "Ultra Girl" (in English).
Ultra Girl participated in IDOLidge Carnival in Taipei, Taiwan, in May 2016.
Profile
Ultra Girl (ウルトラガール)
Years active : 2012 – present
Label : VersionMusic
Agency : Spiral Music
Members
Aso Tomoyo (麻生智世) – White
Kawasaki Serina (川崎芹奈) – Blue
Arai Fumika (新井郁花) – Pink
Hirose Miyu (広瀬光悠) – Yellow
Former Members
Shirakawa Kanon (白川花音)
Kaneko Yui (金子ゆい)
Watanabe Arina (渡辺アリナ)
Suzuki Noa (鈴木希空) – Red
Discography
Singles
14/07/2012 : Seigi no Mikata (正義の味方)
18/10/2012 : Tenkyu! (てんきゅ!)
02/10/2013 : Ultra Ouen Uta (ウルトラ応援歌)
20/12/2013 : Kira Kira Pika Pika Karin Rin Rin (キラキラピカピカリンリンリン)
12/03/2014 : 888
23/09/2014 : Kimi! Hero ni Natte (君!ヒーローになって)
18/03/2015 : No.1 / Mugamuchuu (No.1 / 無我夢中)
Albums
Links
News