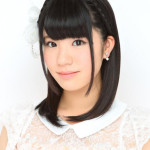 Umemoto Madoka announced her graduation from SKE48 during their stage performance at the Sunshine Sakae Theater on February 3rd.
Ume-chan explained that she wanted to be closer to her dreams. She also talked about her insterest in motorsport and F1.
The date of her graduation live and ceremony haven't been decided yet.
Umemoto Madoka joined SKE48 in December 2010. She is currently a member of Team E and its vice-captain.