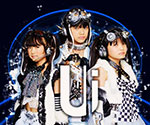 Under Face is a Japanese idol group formed in 2013.
It consists of 4 members.
Under Face is a sub-unit of Smile Gakuen (スマイル学園).
Nanako, Honoka and Ichigo are the singers.
The 3 girls perform a mix of Gothic Lolita / Steam Punk / Cyber / Electro / Sci-Fi songs.
DJ Electking, who works on Namie Amuro's music videos, participates in their stage performances.
The music is composed by Arm from Iosys, Numan and Osamu "Shu" Imamoto.
Under Face released their debut single Skytower in March 2013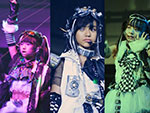 Check out our interview with Under Face made in December 2013.
Aoi joined the idol unit as a new member in June 2014.
Under Face disbanded in the summer of 2014 after the graduation of Nanako. She decided to pursue her career as a model.
After the withdrawal of the leader, Honoka, Ichigo and Aoi formed a new idol group named Deep Mind to continue their activities.
Profile
Under Face
Years active : 2013 – 2014
Label : –
Agency : –
Members
Nanako (ななこ)
Honoka (ほのか)
Ichigo (いちご)
Aoi (あおい)
Discography
Singles
08/03/2013 : Skytower
Perfect Lolita
20/12/2013 : Wall Breaker
Albums
Links
News
Trailer (Video)