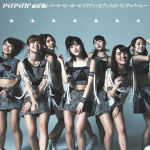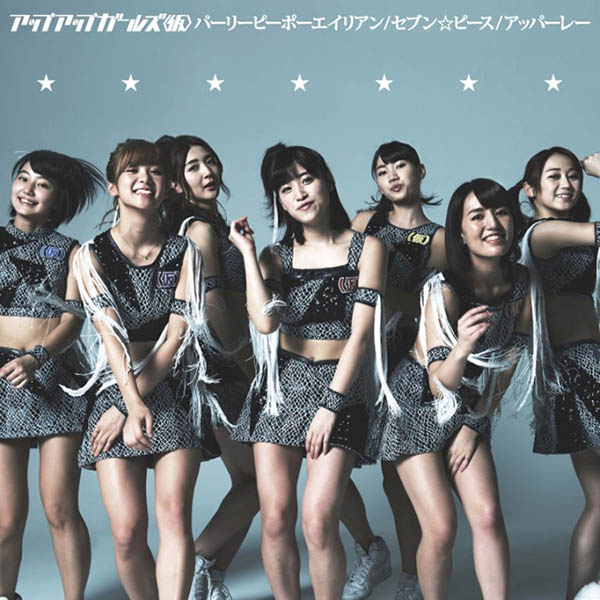 The idol group Up Up Girls (Kakko Kari) will release its 20th single on April 5.
The single is entitled Party People Alien / Seven☆Peace (パーリーピーポーエイリアン/セブン☆ピース). It comprises a double A-side.
This is its first single for over a year.
The music videos were unveiled.
Several guests such as Hida Nanako (Idol Renaissance) and professional wrestlers appear in the MV for Party People Alien. The video shooting was done at the Shinjuku Robot Restaurant. It was made in collaboration with Nunettes sunglasses.
The lyrics were written by NOBE. The music was composed by michitomo. It is an EDM (electro dance music) song.
Seven☆Peace was written, composed, and arranged by PandaBoY.
The single will be sold in 3 versions : one regular edition and 2 limited ones A and B. Each edition will contain a different CD.
The 3rd track is different depending on the edition.
Tracklist
CD

Party People Alien (パーリーピーポーエイリアン)
Seven☆Peace (セブン☆ピース)
Upperlay (アッパーレー ; Appare)
Party People Alien (instrumental)
Seven☆Peace (instrumental)
CD (Type A)

Party People Alien
Seven☆Peace
Shout!!!!!!!
Party People Alien (instrumental)
Seven☆Peace (instrumental)
CD (Type B)

Party People Alien (パーリーピーポーエイリアン)
Seven☆Peace (セブン☆ピース)
Seishun no Namida (青春の涙)
Party People Alien (instrumental)
Seven☆Peace (instrumental)
Music Video (PV)