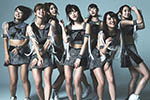 All the members of Up Up Girls (Kakko Kari) are now on Twitter.
Mori Saki, Sato Ayano, Saho Akari and Arai Manami have just opened their account on April 24th. Sengoku Minami, Furukawa Konatsu and Azusa Sekine were already on the social network.
In addition, it was announced that the idol group will hold a concert at Nippon Budokan on November 8th. Further details will be given later.
Here is the list of the Twitter accounts if you want to follow the members :
Furthermore, Up Up Girls (Kakko Kari) released their 20th single Party People Alien / Seven☆Peace (パーリーピーポーエイリアン/セブン☆ピース) on April 5th.