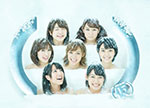 Up Up Girls (Kari) 1st Zenkoku Tour (アップアップガールズ(仮)1st全国ツアー) will be held from March 21 to June 1, 2014.
During this concert tour, entitled UpGa Daini Sho (Kari) Shingun ~Nakano ni Mukatte~ (アプガ第二章(仮) 進軍~中野に向かって~), Up Up Girls (Kari) will hold 15 live performances across Japan.
The final concert will take place at Nakano Sun Plaza in Tokyo.
The announcement was made at the event T-Palette Record Kanshasai 2013 (T-Palette Records感謝祭2013).
Furthermore, Up Up Girls (Kari) will release their new single Nijiiro Mosaic (虹色モザイク) / Enjoy!! Enjo(y)!! on December 25.
Schedule
21/03/2014 : Bottom Line, Aichi
22/03/2014 : Umeda Akaso, Osaka
23/03/2014 : Kobe Slope, Hyogo
05/04/2014 : Morioka Club Change, Iwate
06/04/2014 : Sendai Rensa, Miyagi
20/04/2014 : Sapporo Penny Lane 24, Hokkaido
27/04/2014 : Fukuoka Drum Logos, Fukuoka
29/04/2014 : Kumamoto Drum Be-9v1, Kumamoto
04/05/2014 : Matsuyama Salon Kitty, Ehime
05/05/2014 : Takamatsu Monster, Kagawa
10/05/2014 : Hiroshima Club Quattro, Hiroshima
11/05/2014 : Okayama Crazymama Kingdom, Okayama
24/05/2014 : Takasaki club Fleez, Gunma
25/05/2014 : Niigata Lots, Niigata
01/06/2014 : Nakano Sun Plaza, Tokyo