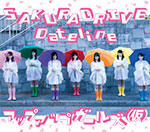 Up Up Girls' upcoming single Sakura Drive / Dateline will be released on March 13.
It is a double A-side single. The songs were written by PandaBoy and Michitomo.
The CD contains 2 songs and their instrumental versions.
Up Up Girls' previous single RespecTokyo / Sutorera! ~Straight Up!~ (リスペクトーキョー / ストレラ!~Straight Up!~) has been released on February 20.
Tracklist
Sakura Drive
Dateline
Sakura Drive (Instrumental)
Dateline (Instrumental)
Up Up Girls – Sakura Drive (Live Video)