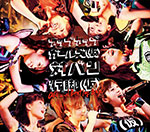 Up Up Girls Taiban Angya (Kari) ~Official Bootleg Box~ (アップアップガールズ(仮)対バン行脚(仮)) will be released on DVD in late August.
The DVD box set includes the 5 concerts held by Up Up Girls featuring other idol groups between February and April.
The other idol groups which participated in the live performances are Negicco, Dorothy Little Happy, Hime Kyun Fruit Can, LinQ, and BiS.
Furthermore, Up Up Girls will release their new single Summer Beam / Up Up Typhoon (サマービーム / アップアップタイフーン) on July 24.
Their live DVD Up Up Girls 3rd Live Yokohama Blitz Daisakusen (アップアップガールズ(仮) 3rd Live横浜Blitz大決戦(仮)) will go on sale on July 31.
Tracklist
Disc 1 : Niigata Kessen (新潟決戦) – Up Up Girls vs Negicco
Disc 2 : Sendai Kessen (仙台決戦) – Up Up Girls vs Dorothy Little Happy
Disc 3 : Matsuyama Kessen (松山決戦) – Up Up Girls vs Hime Kyun Fruit Can
Disc 4 : Fukuoka Kessen (福岡決戦) – Up Up Girls vs LinQ
Disc 5 : Tokyo Kessen (東京決戦) – Up Up Girls vs BiS